What to Expect at a Hearing Test
The mental and emotional fatigue, social isolation, and breakdown in relationships that come with hearing loss aren't the absolute reality that so many people think it is. We can take control of our hearing health by taking proactive steps to identify any hearing issues and move forward with evidence-based medical treatment. 
The first action to take in confronting hearing loss is to schedule a hearing consultation. They're quick and painless and our team of hearing health professionals will guide you every step of the way.
From there, our team will work with you to determine if you're a good candidate for treatment. If you've chosen to invest in hearing aids or other hearing treatments, we'll continue to support you through patient education, enlist the help of your family and friends for support, schedule follow-up visits, and continue to monitor your hearing experience. 
It all starts with the choice to schedule a hearing consultation. Here's what to expect at your appointment.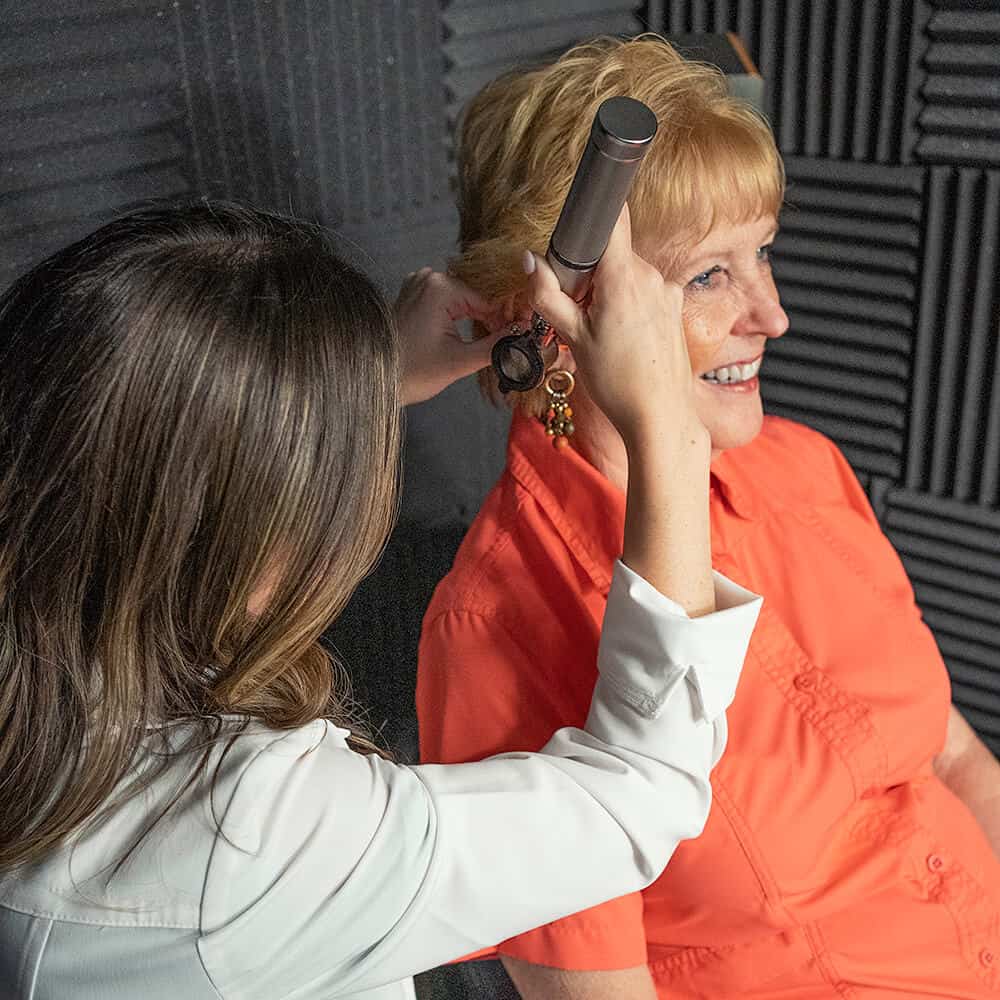 Preparing for Your Hearing Consultation
Tell us about your recent hearing experiences
It's helpful to provide us context on how you've experienced hearing recently. Prepare for your appointment by recalling specific events that have occurred that made you realize you should have your hearing examined. Maybe it was a comment made by a friend or a family member, trouble talking on the phone, difficulty hearing in a restaurant, or you recently developed tinnitus (ringing in the ears). These symptoms help us better understand the issues that brought you into our office so that we can find the best possible treatment solution for your specific need.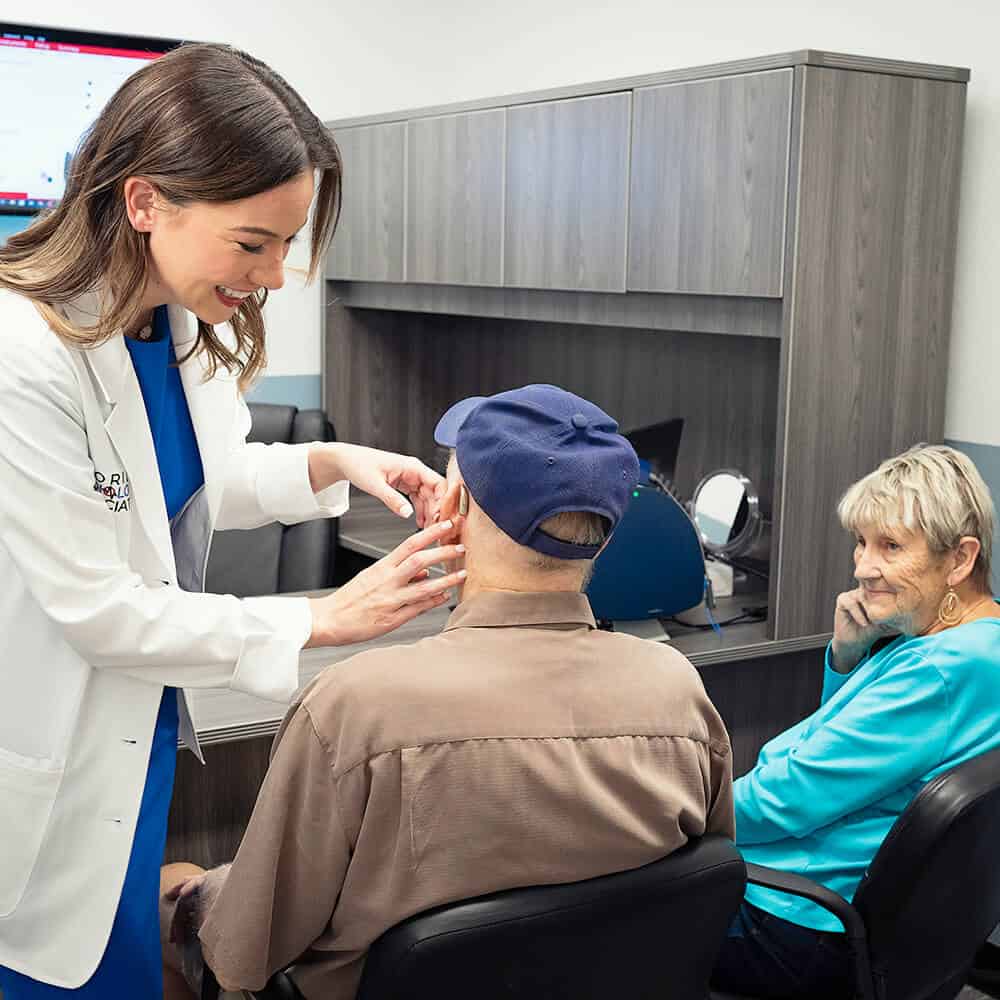 Enlist a friend or family member
We welcome and encourage you to bring a friend or family member to your hearing consultation. Not only can they help you feel at ease, we know from experience that enlisting your support network both during your appointment and at home will result in a success rate for any future treatments.  Oftentimes the addition of a companion in the appointment allows us to have a greater understanding of where you may be struggling in your day-to-day experiences.  Patients often feel that they are coping well with their hearing loss while their family may bring attention to the fact that they are struggling.
Designed for family-centered education and advocacy, all of our patient exam areas are equipped with large flat-screen televisions for ease of counseling and review of test findings.  Our viewing areas were created to allow for multiple friends and family to watch your test be performed from outside of the sound booth and see your results as they are gathered.
The 3 Stages of a Hearing Consultation
Medical History

The first thing we'll do after you arrive for your hearing consultation is to take a medical inventory. Your health history might provide clues on your hearing condition or help us look for probable conditions. This includes reviewing previous traumas, illnesses, or medical events you've experienced previously may be impacting your current hearing reality.

Here, we'll ask you about your unique lifestyle, habits, and life experiences. The way we live can have a profound impact on our hearing. Noise exposure, including hobbies and recreational activities, might have played a role in the development of hearing loss.

Physical Examination

We perform a physical examination of your ears in order to rule out conductive hearing loss, which is caused by an obstruction of the ear. We'll remove any potential blockage if present. We're also checking to make sure that the tissues and structure of the ear are healthy and functioning.

Auditory Examination

After the physical examination of the ears, we begin the auditory examination. These tests discover the softest levels of sound that you can hear and how well you are able to repeat speech in quiet as well as in the presence of background noise. The different tests help us diagnose the severity and type of hearing loss (conductive, mixed, or sensorineural), and the results help us determine the best treatment for you.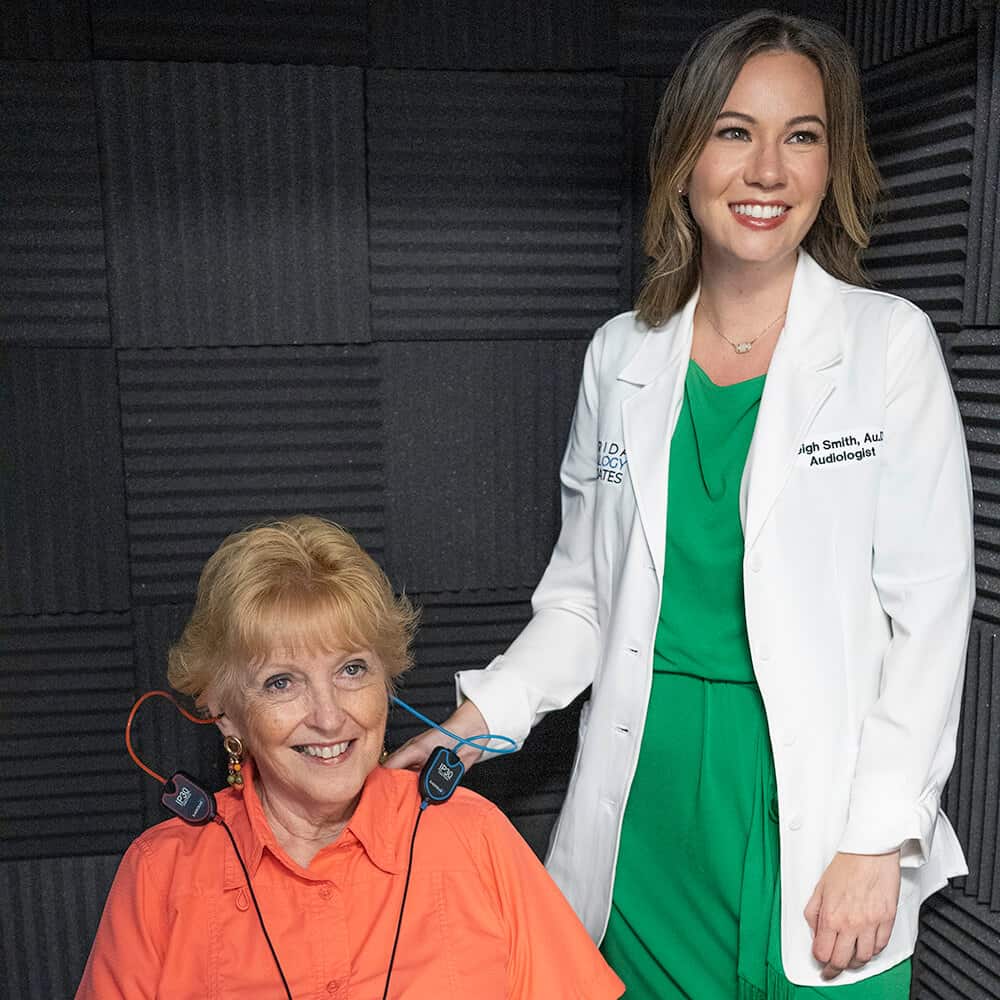 Pure-Tone Audiometry
This test determines how well you can hear frequencies, or pitches, at varying volumes. During this portion of the test, you will inform us which tones you can hear and at what volume. We test both air conduction and bone conduction which assess the outer, middle, and inner portions of the ear and helps us diagnose the nature of your hearing loss.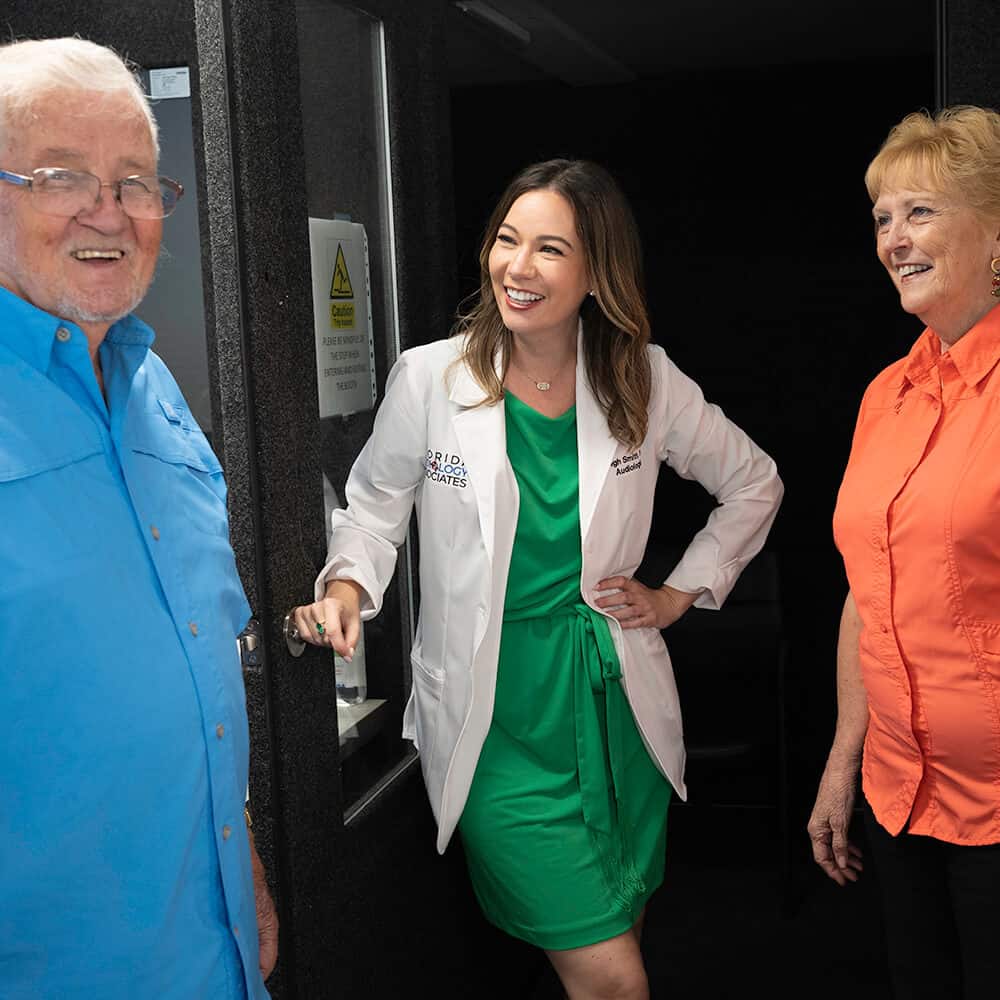 Speech Audiometry
In the speech audiometry tests, we measure how well you can understand verbal conversation by playing recorded or live speech in a range of volumes. The speech recognition test (SRT), is a test of reliability and the level which you hear during this portion of the exam should match your average hearing level of the tones. Speech audiometry is how we determine whether an exam is accurate and ensures proper reliability of the results. Word recognition testing (WRS) is performed at one a stable level and provides a percentage of speech sounds that you are able to hear at a comfortable volume.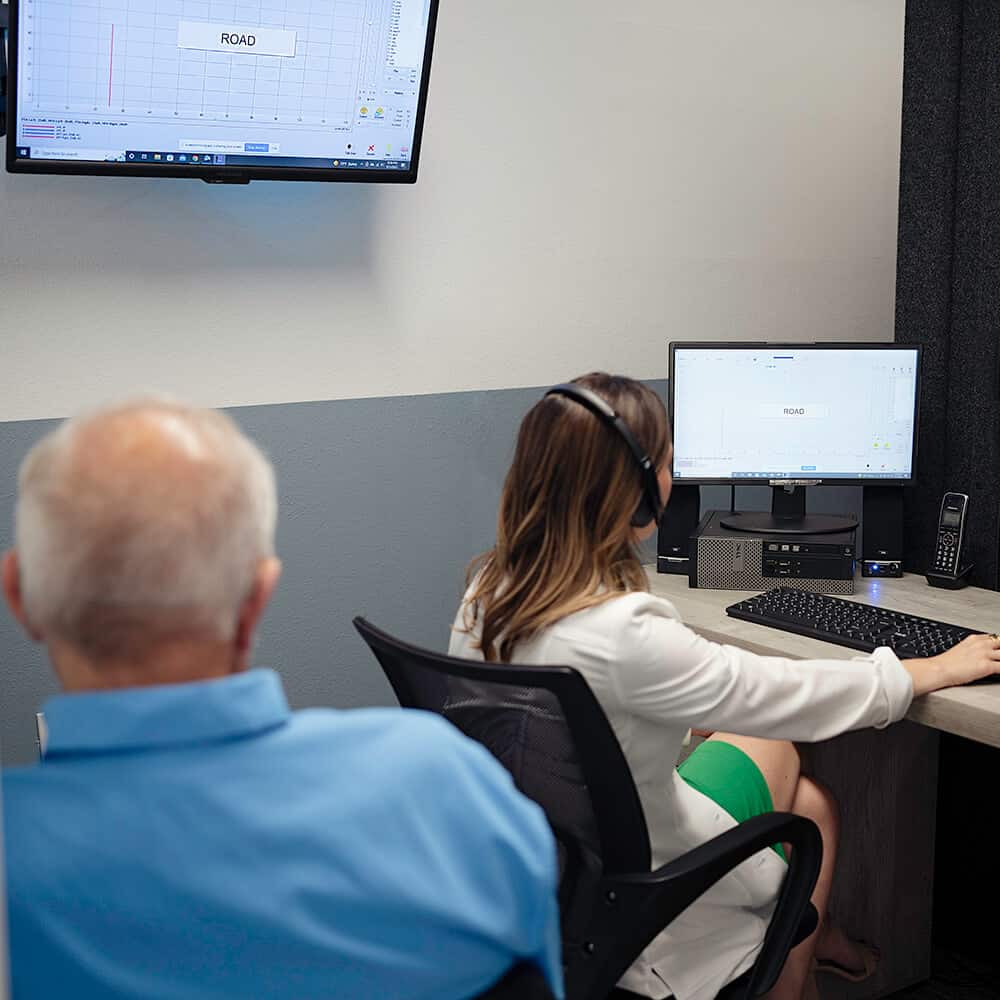 Speech in Noise and Words in Noise
Background noise can make speech clarity more difficult. While previous tests haven't included the addition of competing noise, this one will. Only a small percentage of hearing clinics routinely provide speech in noise testing as part of the standard hearing exam. Here at Florida Audiology Associates, we believe this exam is important as it is a reflection of daily life. During this test, you will hear speech mixed with background noise and repeat what words you can hear. These words and sentences will become progressively harder to understand. Results of this test help us determine the appropriate hearing aid technology as well as what assistive listening devices you may need in order to successfully communicate in noisy environments. You will hear speech with background noise and report back what you can hear. Depending on your hearing ability, it may feel slightly stressful. However, this test reflects real-life challenges to hearing and the results are valuable.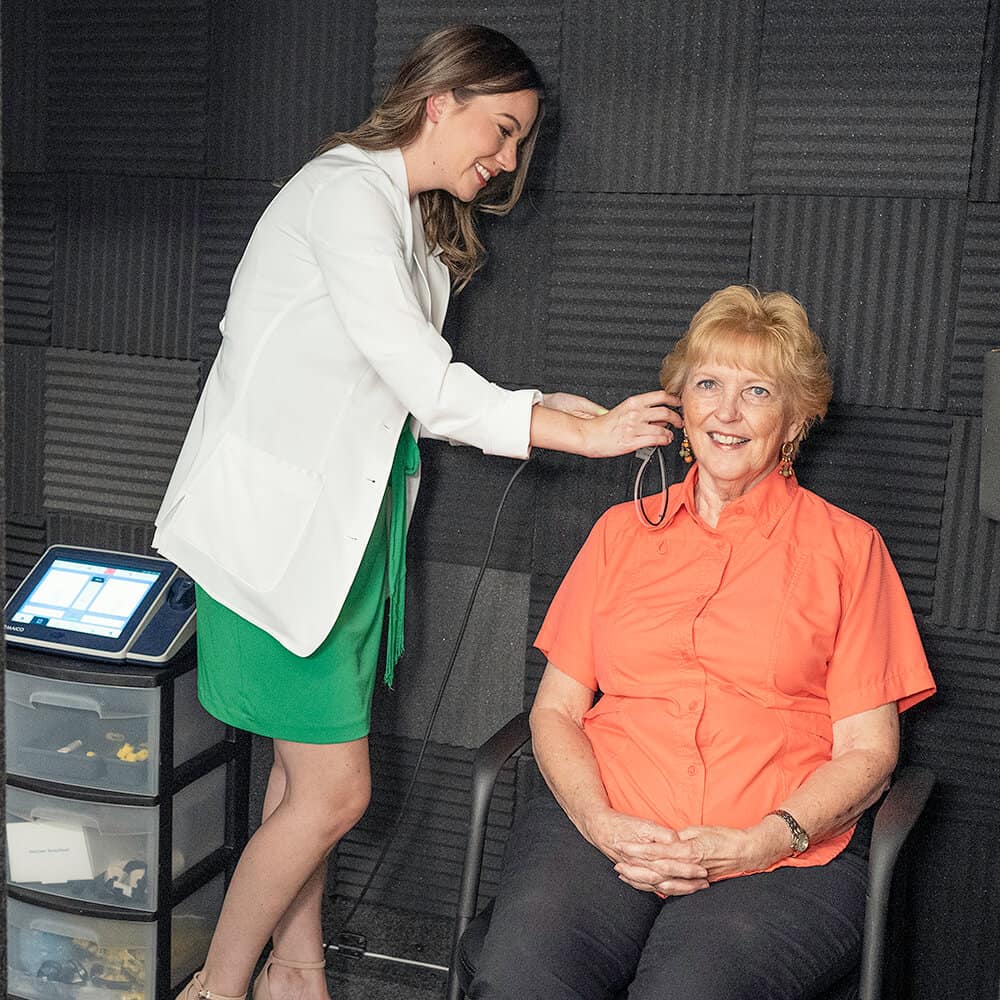 Tympanometry, Acoustic Reflexes, and Eustachian Tube Function
Florida Audiology Associates does not believe in performing tests only for the purpose of fitting hearing aids. We complete more comprehensive and medically-focused examinations with certain tests only able to be performed by licensed Audiologists. These tests provide a more complete picture of your hearing health and are not in the scope of practice for Hearing Instrument Specialists, which is why we always recommend patients seek care from a licensed Doctor of Audiology. These tests include performing tympanometry, acoustic reflexes thresholds, acoustic reflex decay, and eustachian tube function. The Audiologist will determine which tests are necessary after reviewing your case history. The tests mentioned help us to measure the movement of your eardrum and muscles of the ear, and diagnose the precise location of your hearing loss within the auditory system.
Dr. Leigh Smith is a very knowledgeable Audiologist with a nice easy going personality. I was amazed at the complexity of the audio hearing program. Being an engineer, I can appreciate the technical aspects of the program.
Leigh is very through and answered all of my questions. Everyone there is very helpful and nice.
I experienced a very favorable appointment. Couldn't be more pleased with the individual time spent. Thank you.
I t was wonderful to meet with Dr Leigh Smith and meet Yvette My hearing aids are much clearer , as Dr Leigh spent time with meAlways a pleasure, she is caring effecient , always has a smile
I am totally satisfied with the warm professionalism Dr Smith provided- highly recommend her expertise!
Anthony Locacio
2022-07-21
Professional, courteous and patient explaining the process and results. Thank you Dr. Smith!
jeff szulinski
2022-07-13
Dr. Smith was awesome.explained everything possible to me .told me many things I did not know a super pleasant Woman. Kudos to her. 5stars isn't enough.Deserves more. THANKYOU Dr.Smith.
Very thorough and complete testing. Explained and very honest according to what I needed
Lorraine Palisi
2022-06-26
My 92yr old mom was referred to Dr Smith due to hearing loss even though she has hearing aides. Dr Smith treated my mom like her own family and took such wonderful care of her. She actually retested mom's hearing and thankfully reprogrammed her hearing aides as well. The hearing aides were not programmed where they should be leaving mom's hearing at 40%. Not good enough so with some tweeking and adjustments my mom's face lit up when she could actually hear our conversation. We were both so so happy that Dr Smith was able to treat mom from a medical standpoint instead of just audiology side. Again Dr Smith thank you with all of my heart.
Great Doctor. Very knowledgeable.