Hearing Services in Hudson, Florida
We approach better hearing through research, education, ongoing support and through the use of evidence-based hearing loss solutions to give our patients the best possible hearing experience available. 
We know that your journey to healthier hearing doesn't end when you select a product. We work closely with you to find the most appropriate solution for your hearing needs and unique lifestyle. We've built support networks for our patients to have the necessary tools at home to assist their unique hearing needs. Our practice is focused on an advocacy-based approach to provide patient's education on enhancement strategies, counseling measures, and product training to aid in their overall success.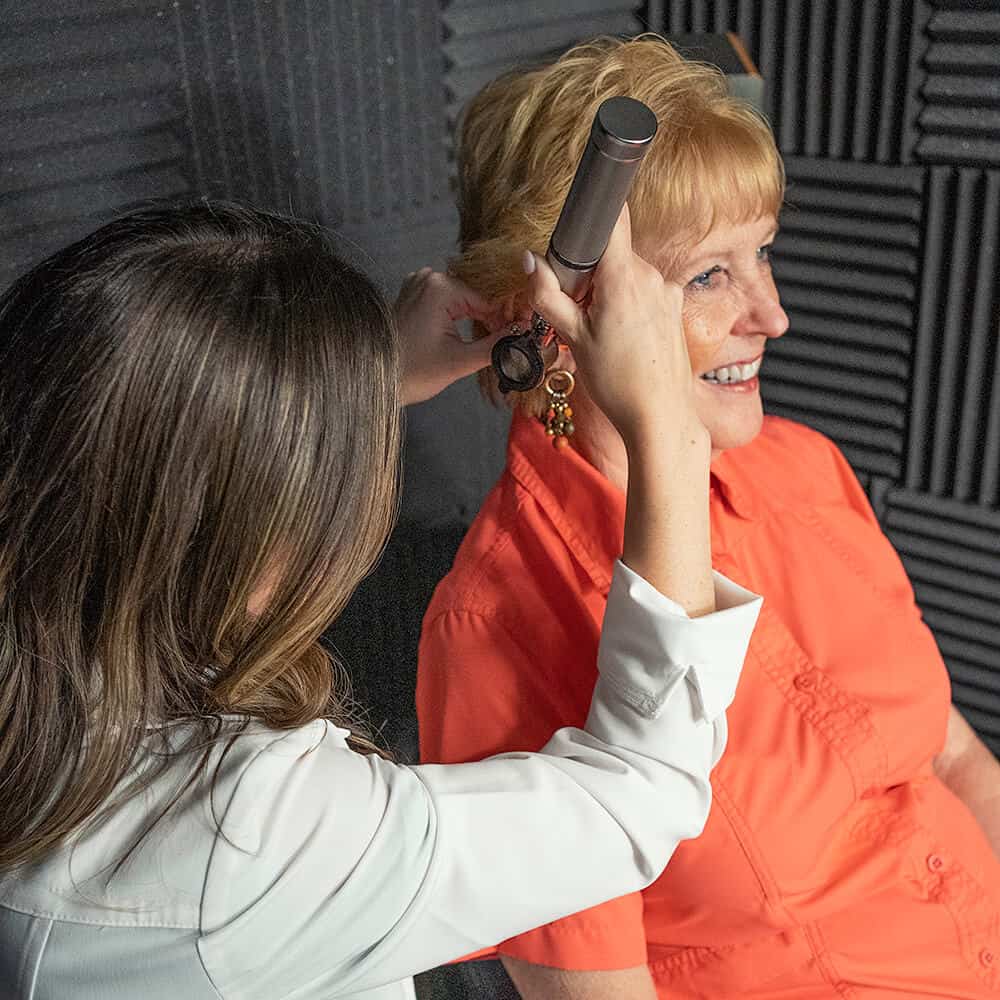 Hearing Evaluations
We offer hearing evaluations as the first step toward healthier hearing. We believe that everyone deserves quality hearing care so that they can live their most vibrant and connected life. Self-diagnosing hearing loss is difficult if not downright impossible. Our team of highly trained Audiologists will guide you through this quick and easy process. 
Scheduling regular hearing exams is an important action to take in protecting and preserving your hearing. It's recommended that after the age of 50, you undergo a routine examination at least once every three years or sooner if you already have a diagnosis of hearing loss or suspect you may have one. Our highly skilled team can work with you to determine a realistic and responsible testing schedule that works for you.
By prioritizing your hearing health today, you can avoid unnecessary complications that come with undiagnosed hearing loss such as depression, isolation, and other mental and emotional issues.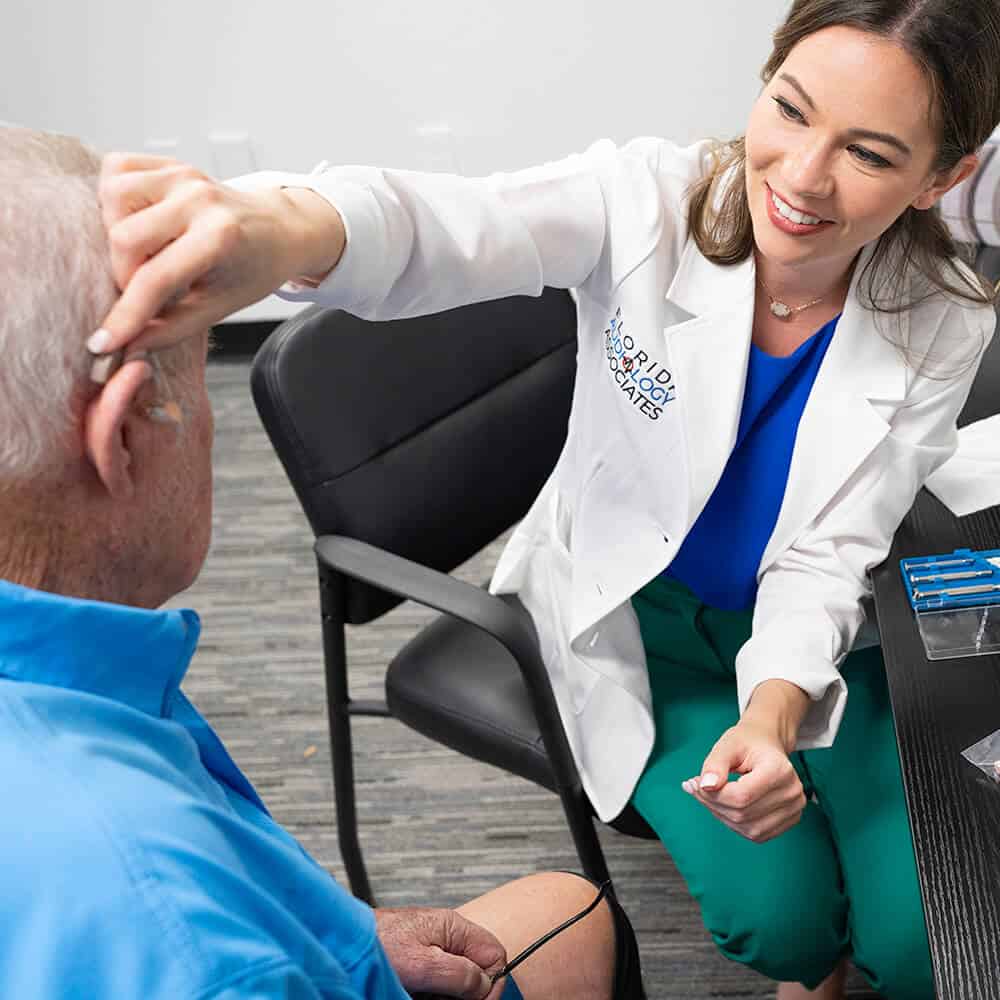 Hearing Aids
Providing hearing aids is just one of the services we offer at Florida Audiology Associates. We don't have sales goals. Instead, our goal is to meet each patient's need by providing them with a unique solution to their hearing loss. 
We offer a range of hearing aids from the industry's most reliable manufacturers, including Resound, Signia, Phonak, and Widex. Beyond each brand's long-standing role within the hearing aid market, they are also innovation leaders. 
We are proud to provide Real Ear Verification during fittings, which is the only way to precisely program your unique hearing loss to your hearing aids. While offered by only a small number of clinics in the United States, this technology results in substantially more successful hearing aid fittings. This technology is acknowledged as the industry gold standard for hearing aid fitting care.  It provides the truest measurement of your hearing aid's fitting prescription by measuring the amount of prescribed volume at the level of the eardrum.  Unfortunately, less than 30% of clinics utilize this technology despite the fact that patients, on average, have up to a 40% improvement in the satisfaction and quality of their hearing aid performance.  Florida Audiology Associates is proud to have this technology available for our patients and be a face of premium hearing aid care.
View Hearing Aids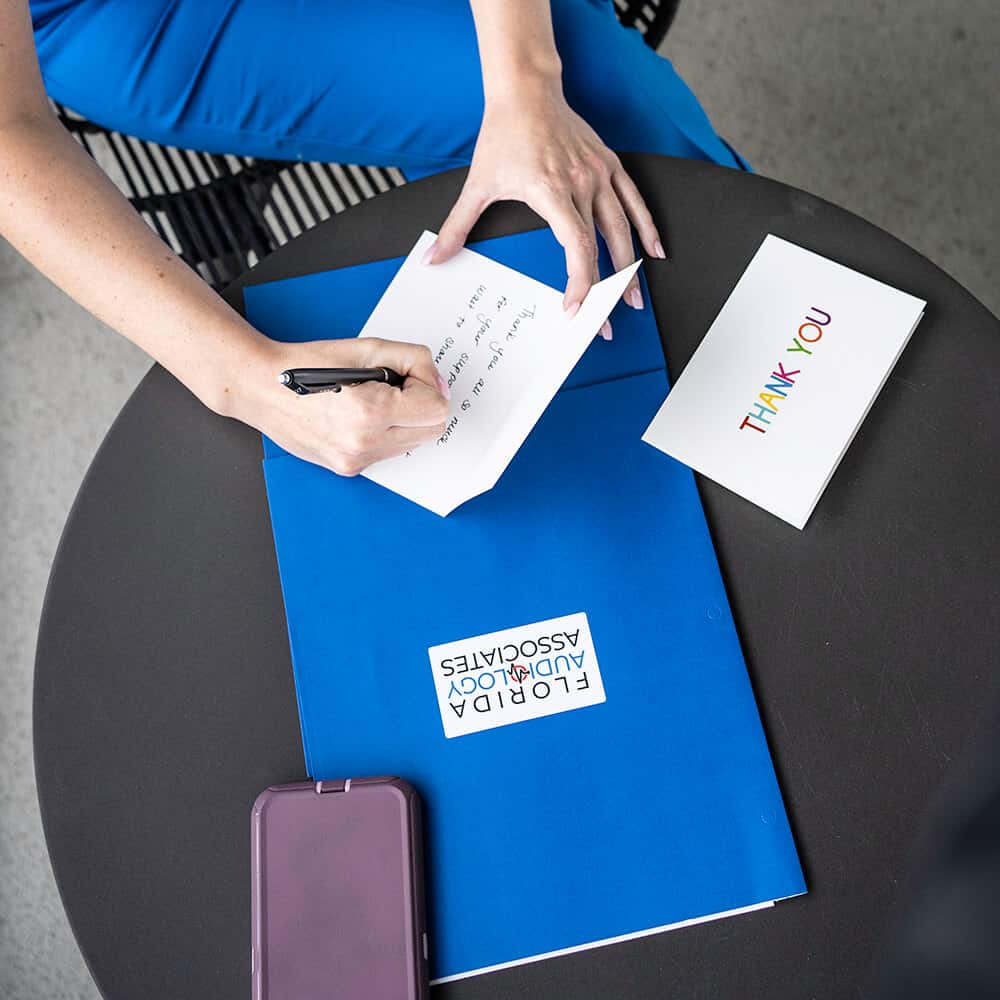 Follow Up Support
Our relationship doesn't end when you walk out the door on the first day. We know that follow-up care is vital to the success of your healthy hearing plan. Hearing aids require an adjustment period, so we prepare you for that time and schedule another appointment to resolve any issues or concerns you've experienced in the first few weeks with your new hearing aids.  The average initial appointment plan includes 4 appointments: 
An initial consultation and hearing exam

Hearing aid evaluation and possible same-day fitting

Initial follow-up visit approximately one week after the hearing aid fitting

A second follow-up 1-2 weeks after the previous appointment where the Real Ear Verification testing is performed
Our follow-up care is patient-centered and meant to help support you as you adjust to and learn about your hearing aids. We encourage your questions and ongoing engagement because our ultimate goal is that you feel comfortable and satisfied with your investment. For most patients, appointments are not limited to the average four visit schedule as mentioned above. Additional appointments can be made to ensure that you are comfortable using your hearing aids and that all of your questions have been answered.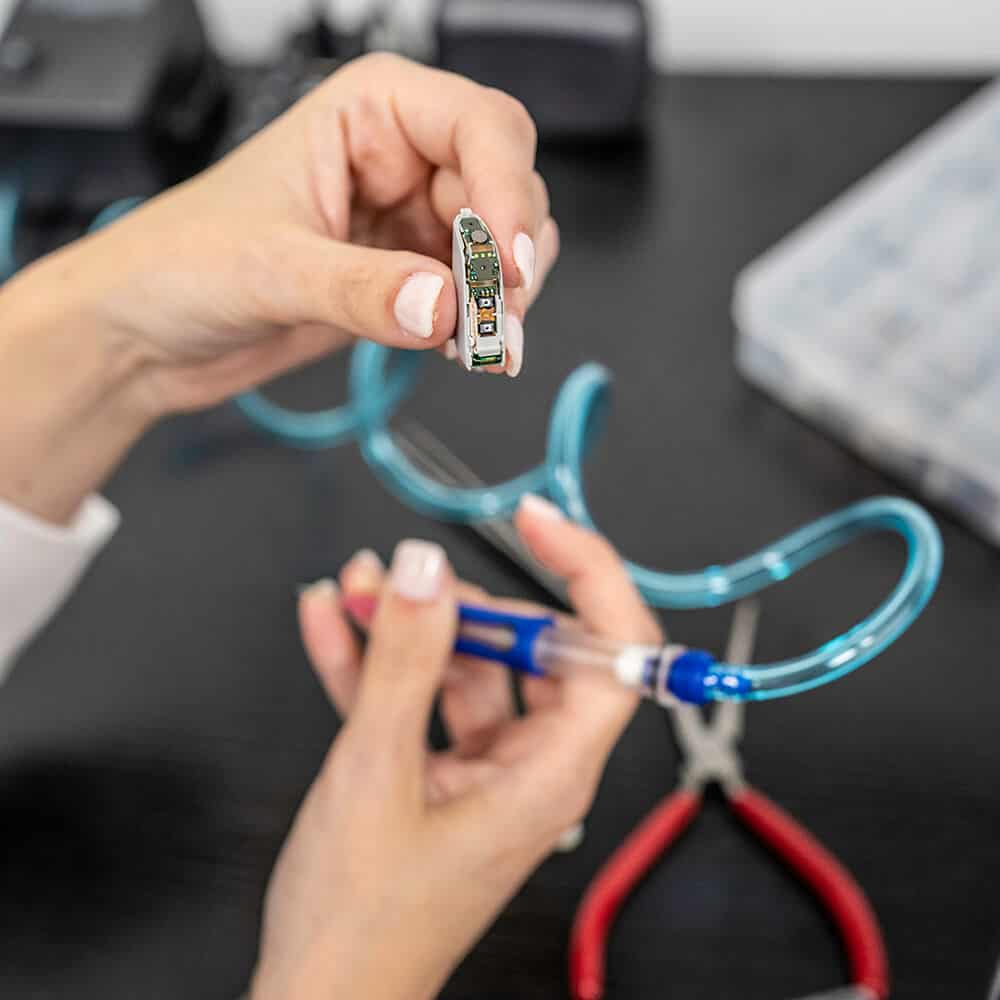 Hearing Aid Repair
Hearing aids are small and powerful machines that get daily use and spend most of their time in humid environments. Even the most carefully maintained hearing aids will likely need repairs in their lifetime.
The warranties and guarantees among manufacturers differ. We inform you at your time of purchase of the hearing aid's manufacturer warranty and discuss available options for additional coverage. Florida Audiology Associates is an office that is proud to offer affordable and timely repairs. Many repairs are able to be performed at our in-house lab for same-day service. For repairs requiring manufacturer assistance, we will cover the cost of shipping, handling, and insurance of the product to ensure that your hearing aids arrive safely at the manufacturer." We know that your hearing aids are only providing your best possible listening experience while you're wearing them, so quickly returning them to you in optimal working order is always our priority.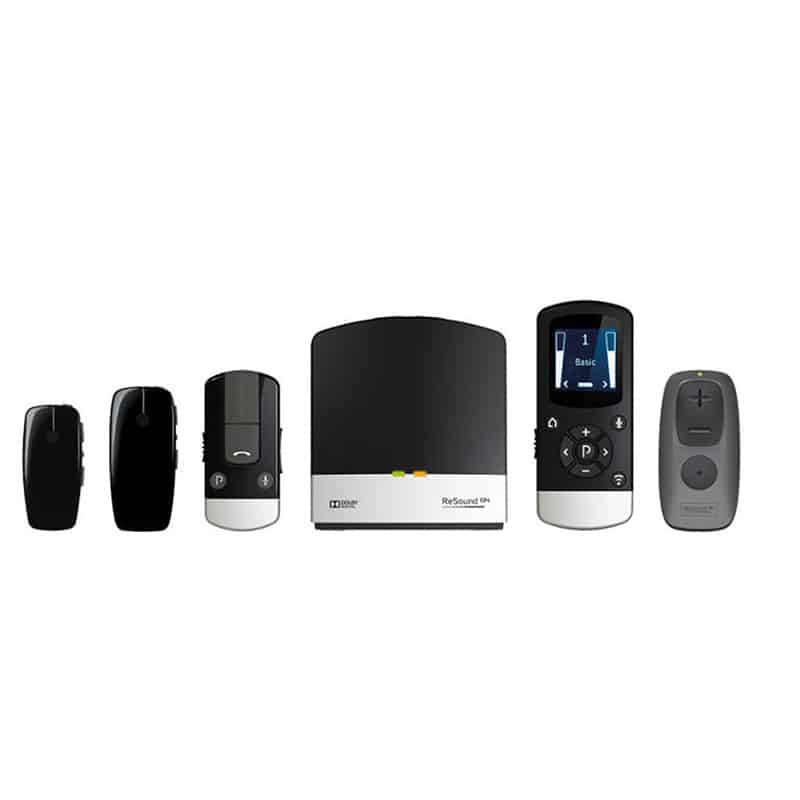 Hearing Accessories
In addition to hearing aids, we also work with manufacturers to offer a wide range of assistive listening devices. In some cases, we might feel that adding supporting accessories will enhance your experience and will make the recommendation. 

Assistive listening devices can be particularly useful for some people in both one-on-one and group scenarios. Watching television, talking on the phone and even hearing better at public events or the classroom can be easier and more fulfilling with the use of these devices. These portable devices collect the sound you want to hear and stream those sounds directly into your hearing aids.  In some cases, these devices also help to filter out unnecessary background noise.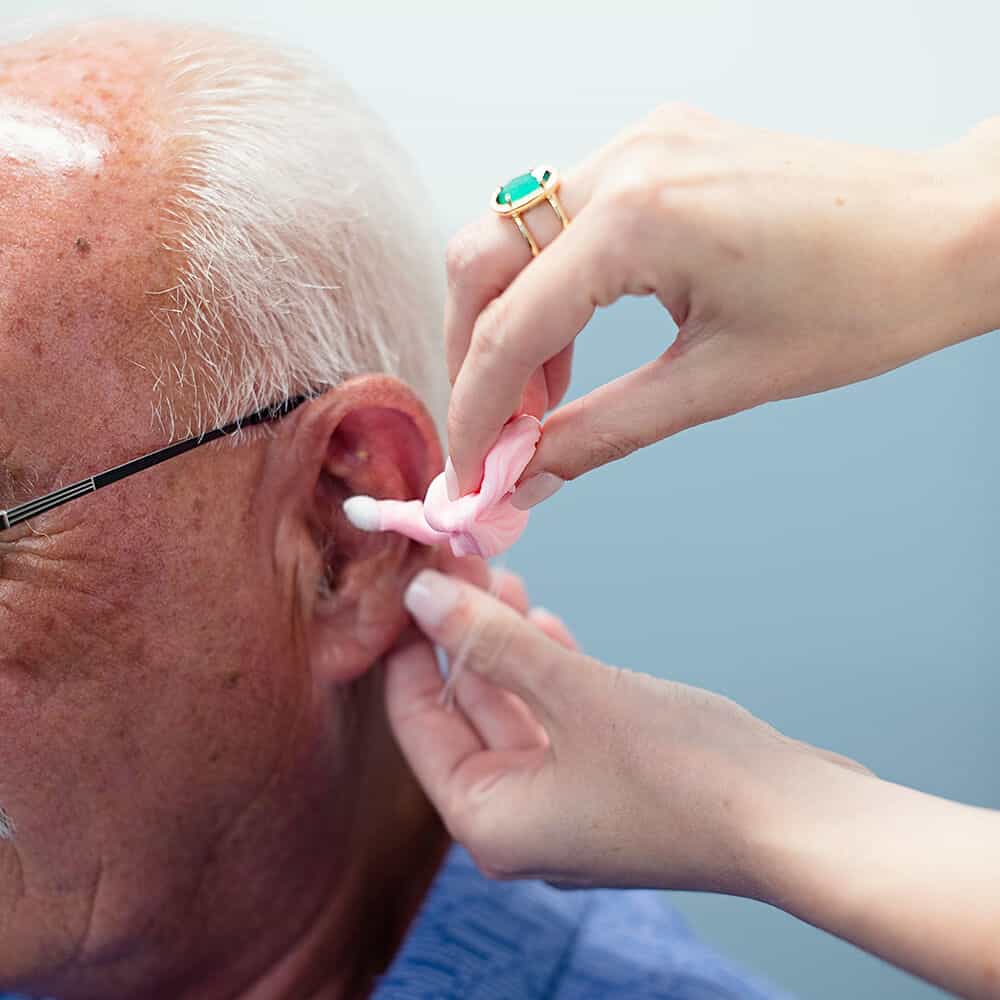 Custom Hearing Protection
Excessive noise exposure is one of the most common reasons that people find their hearing declining. While we often think of loud professions that slowly damage hearing over many years, most of us engage in too-noisy environments through our hobbies and interests. 
Musicians, motorcyclists, and even season ticket holders all regularly expose their ears to dangerously loud sounds of up to 120 decibels. Experts agree noise over 100 decibels should be limited to 15 minutes. When was the last time you went to a rock concert or a football game for only 15 minutes?
If you want to prioritize your hearing health and still enjoy all the delights of life, invest in custom hearing protection. Our team is highly trained to match you with the intervention that best suits your interests and hearing needs. To view a catalog of custom hearing protection products available through our office, go here.
Visit Westone's website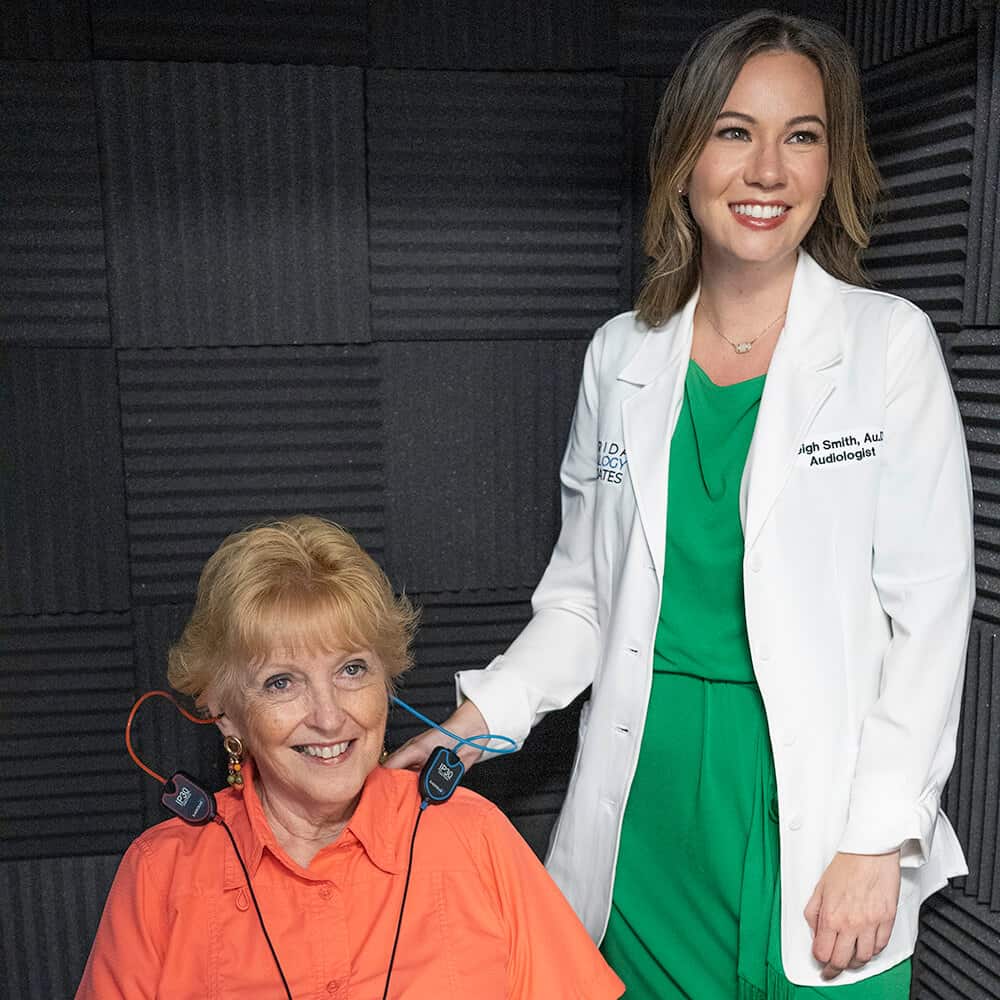 Tinnitus
Tinnitus is the number one symptom of hearing loss and an estimated 90% of patients who experience tinnitus have some degree of hearing loss. Tinnitus is a hearing condition marked by a persistent buzzing or ringing sound heard in the ears when no external noise is present. It can be a remarkably frustrating disorder to live with. It can be a remarkably frustrating disorder to live with and anxiety and depression are common side effects. 
Today, we have therapies and interventions available to help relieve symptoms of tinnitus. Some hearing aids are designed exclusively for the treatment of tinnitus. It is important to note that the treatment of Tinnitus is within the scope of practice for Audiologists, not Hearing Instrument Specialists.  We strongly discourage Tinnitus patients from seeking care through anyone other than a licensed Doctor of Audiology.  At Florida Audiology Associates, we practice within the scope of our license to provide additional testing such as assessing appropriate tinnitus masking levels, pitch matching, and loudness matching.  The results of these assessments allow for more specialized enhancement of your hearing aids to provide the greatest possible symptom relief.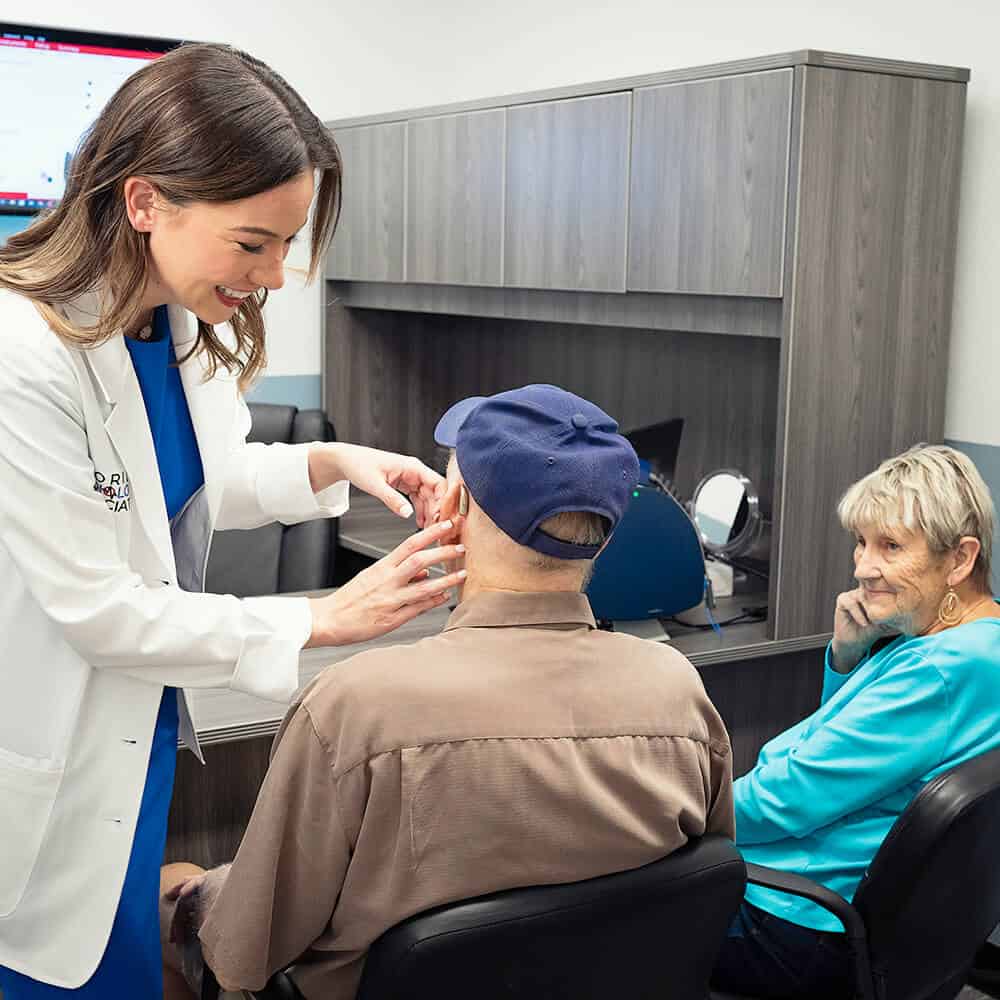 VA Services
The military remains one of the most dangerously loud professions in the world. Because of these risks and their known detrimental effects on physical, mental, and emotional health, U.S. Veterans are entitled to free or low-cost hearing aids. At Florida Audiology Associates, we are eager to help our Veterans find the best possible hearing health experience.
Contact Us
Highly recommend Dr. Smith & Florida Audiology. Friendly, courteous & professional staff. Dr. Smith is very thorough. Listens to your concerns & symptoms. Explains results & course of treatment & answers any questions. Very pleased.
MaryJane Foster
2023-05-12
I had a very thorough hearing exam and I knew I was losing some hearing. Dr. Smith treated me with kindness, respect, and truth. I would recommend her to anyone. Great place to go for a hearing assessment. And the hearing aids I bought work great!!!
Only needed to have a tube replaced, but the young lady at the front desk was friendly and with a smile and Dr. Smith is awesome.
Virginia Kritzman
2023-04-25
Amazing Audiologist!
Laura Bertoncini
2023-03-25
I had a wonderful experience at this office. The front desk personnel was friendly and welcoming! The doctor was experienced and knowledgeable. I would highly recommend this practice.
Very prompt efficient. And professional no hard sales questions would recommend anybody to go to them.
Laura Jean Logan
2023-02-27
I am so grateful to have Dr Leigh Smith as my audiologist. She took her time giving me a comprehensive hearing test and found specifically what hearing loss I have in each ear. She explained the findings and fitted me with new hearing aides. The minute I put them on I was astounded at the quality of hearing. I've had them about 2 weeks now and my tinnitus has improved as well. Dr Leigh made me feel comfortable and answered all my questions. I will be recommending Florida Audiology to anyone who needs a quality hearing test and hearing aides. My life is so much better with these hearing aides that Dr Leigh personally programmed for my needs.
Dr. Leigh and staff are awesome. She runs a friendly and professional office. I had a problem with my first hearing aids and she promptly replaced and tuned up the new ones in no time. Extremely pleased with the whole experience.